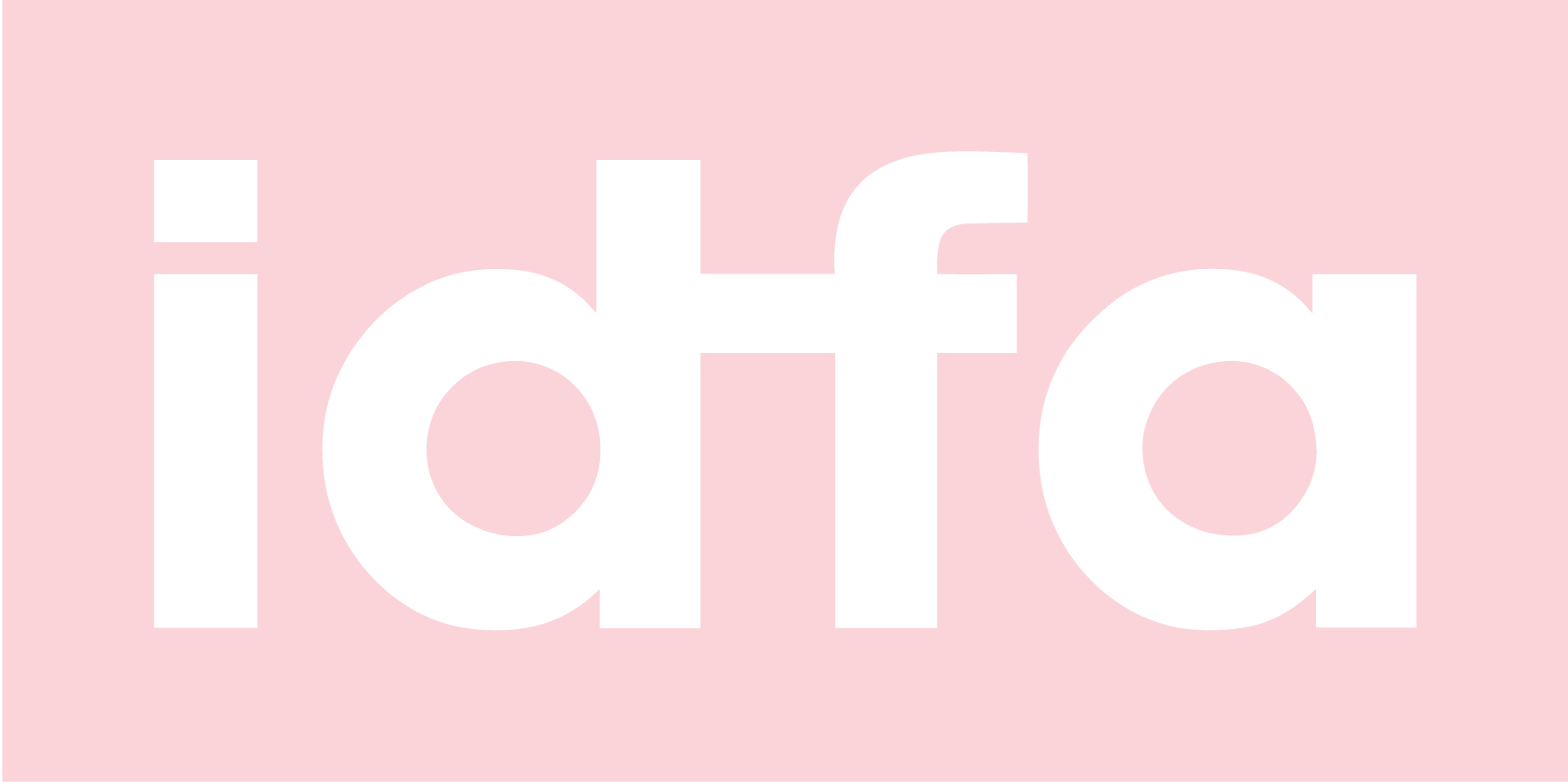 Sponsoring Events
Sponsoring
Social & Industry Events
Please note: Unfortunately due to Covid-19 hosting a social event during IDFA 2020 will not be possible. If you have any questions, please send an e-mail to brigitte@idfa.nl.
If you'd like to reach all festival guests, hosting a Guests Meet Guests (GMG) drink is your best option. All guests of IDFA with a pass are invited to the daily GMG. This year the GMGs are held in various festival locations. You can choose whether you'd like to go for free drinks for all guests offered by your organization. In this case the costs are € 6,000. For the first two GMGs you can also choose to receive 200 vouchers (with your logo/name) to pass out to the guests for a free drink. Those who do not have a voucher pay a reduced price for the drinks. This last option costs € 3,000.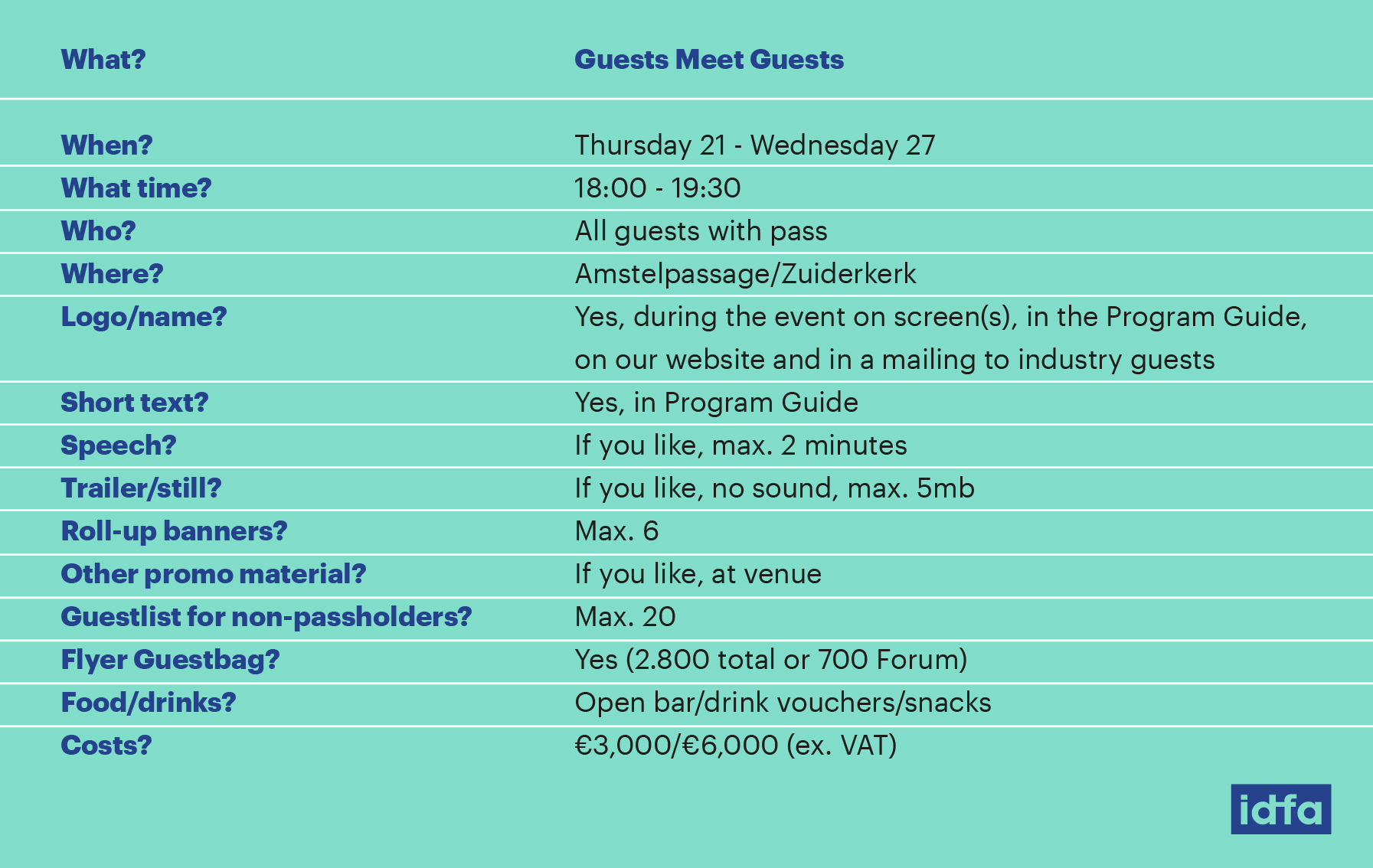 Filmmakers' Dinner
You can reach all filmmakers at the Filmmakers' Dinner on Monday evening. All filmmakers with a film in the program are invited to this special dinner. It's the only night during the festival where all filmmakers are to have a social night, get to know each other and have a relaxed dinner together. About 150 filmmakers join for dinner. It's also possible to host the Filmmakers' Dinner as a group of organizations who are all visible as the joint hosts of this social event.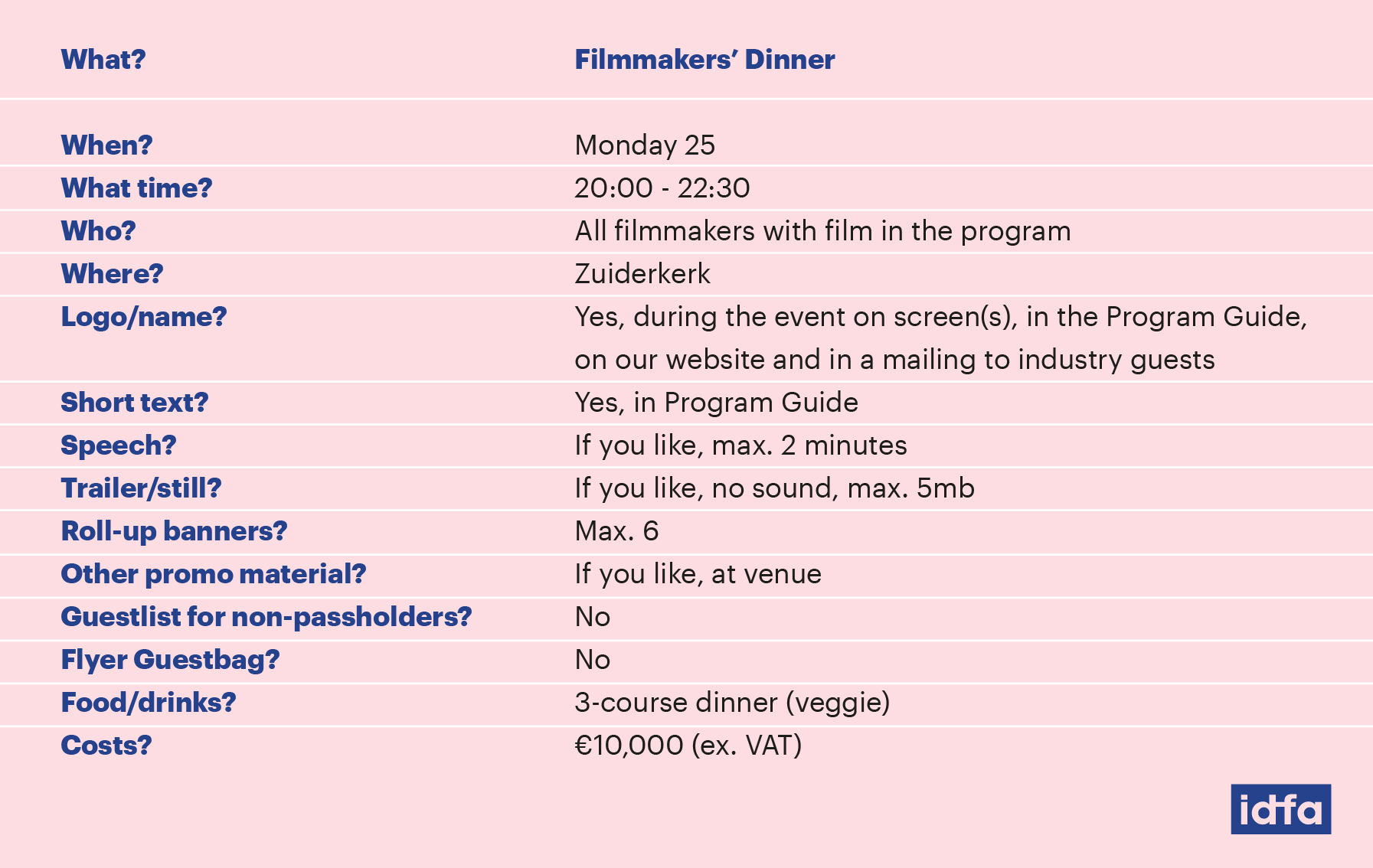 IDFA Forum & DocLab Drinks
If you're interested in reaching all Forum and DocLab participants, you could host the IDFA Forum & DocLab Drinks on Sunday evening. All participants of the Forum are invited to these informal kickoff drinks to start off the pitching days.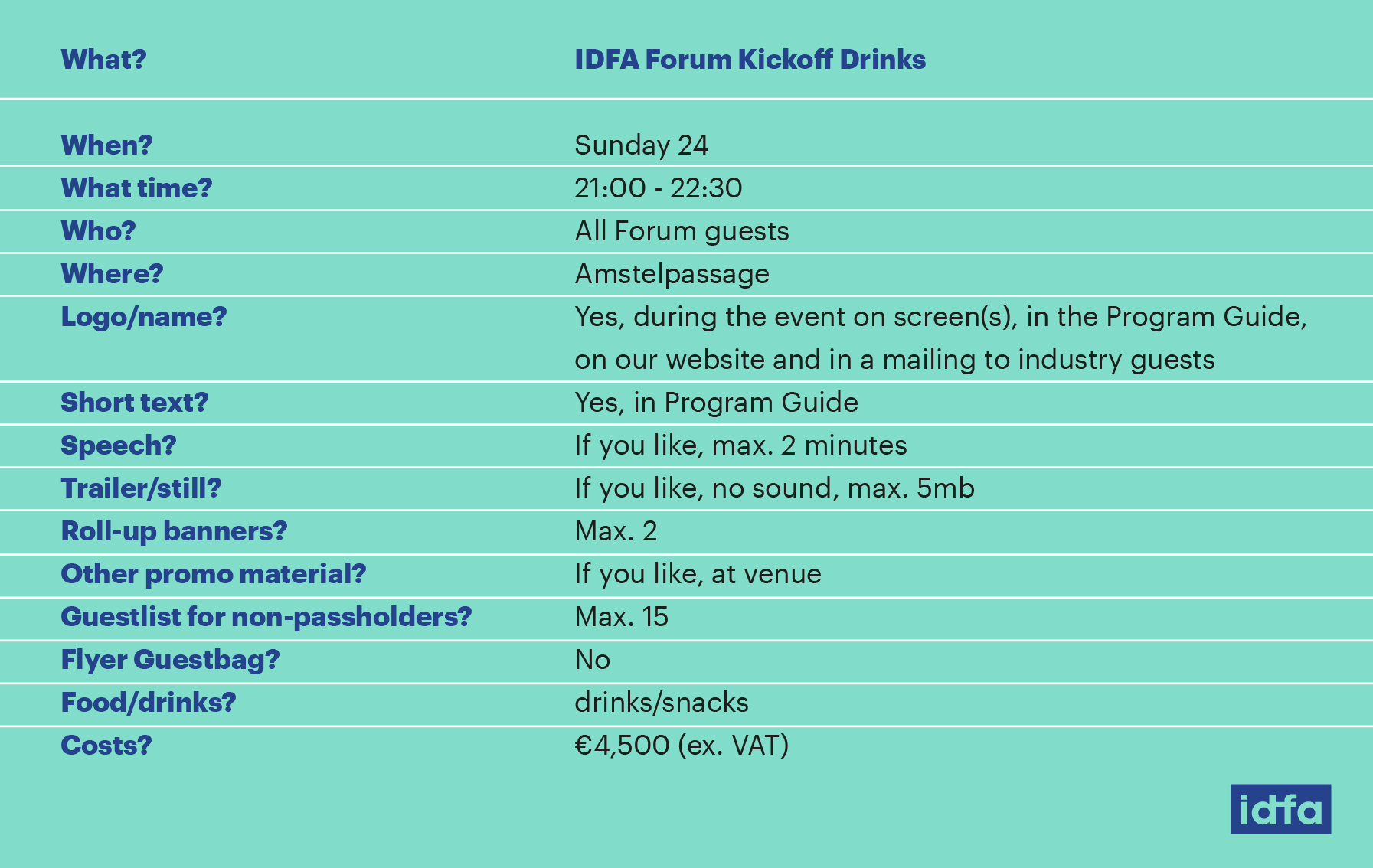 IDFA Forum Lunches
Hosting one of the Forum 3-course lunches is also an option. A number of about 300 to 400 guests can attend the lunch, which is only for Forum delegates (ca. 500 guests).
IDFA Forum Closing Drinks
To round up three days of pitching and networking, an informal closing drink is organized at the Forum venue. So, if you are interested in this specific target group, you might be interested in hosting this drink. During this event Forum also announces the winner of the Dutch Clog. During IDFA Forum all delegates can vote for their favorite pitch, resulting in the winners receiving the Dutch Clog, which includes some serious perks.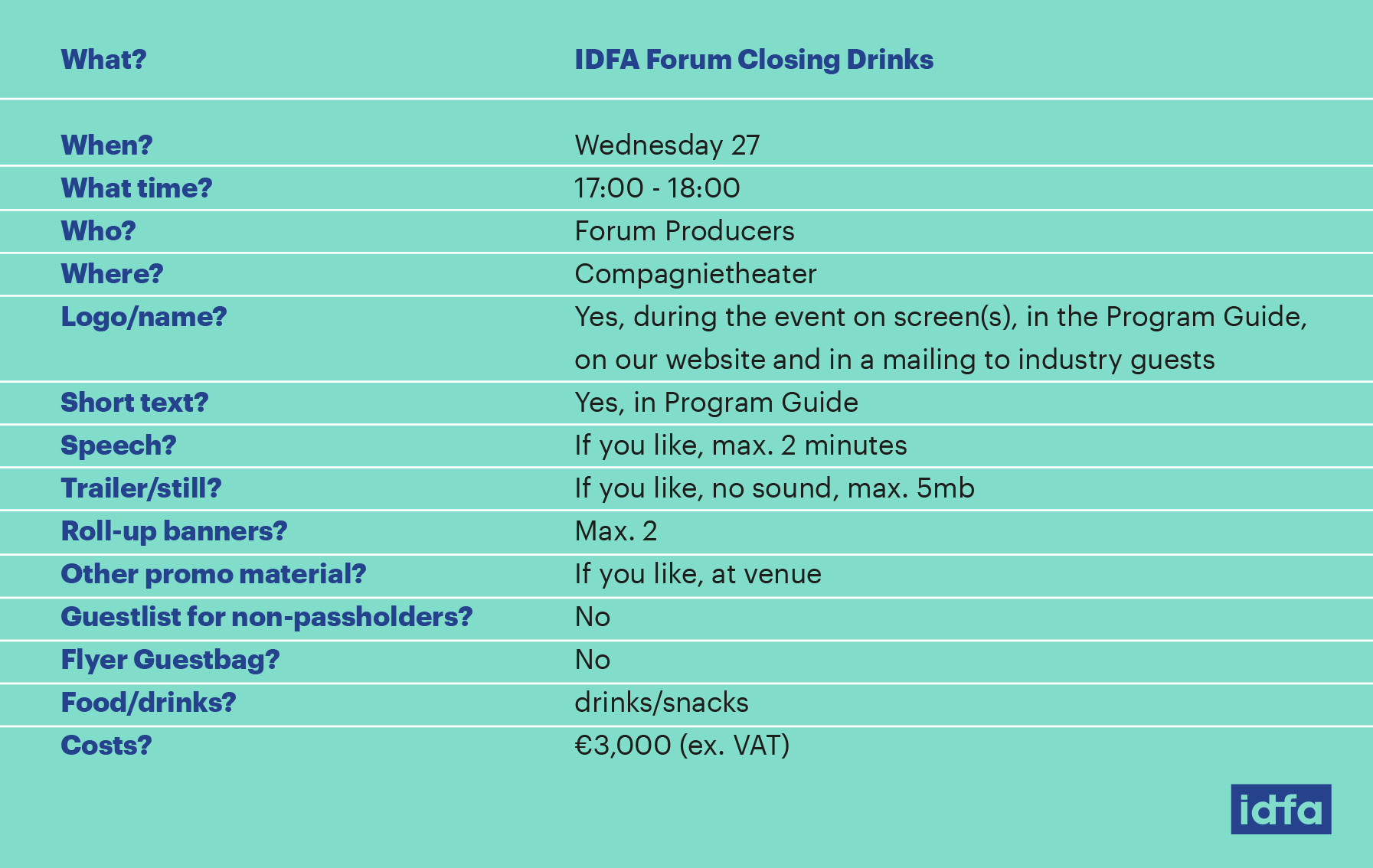 Docs for Sale Happy Hour / Coffee & Tea Table
If you want to reach the Docs for Sale guests (TV buyers, sales agents, distributors and festival programmers) you can become one of the hosts of the daily Docs for Sale Happy Hour and coffee and tea table during the day at Arti et Amicitiae. The Docs for Sale Happy Hours/coffee and tea table are hosted by a group of organizations that are all together visible as the joint hosts of this social event.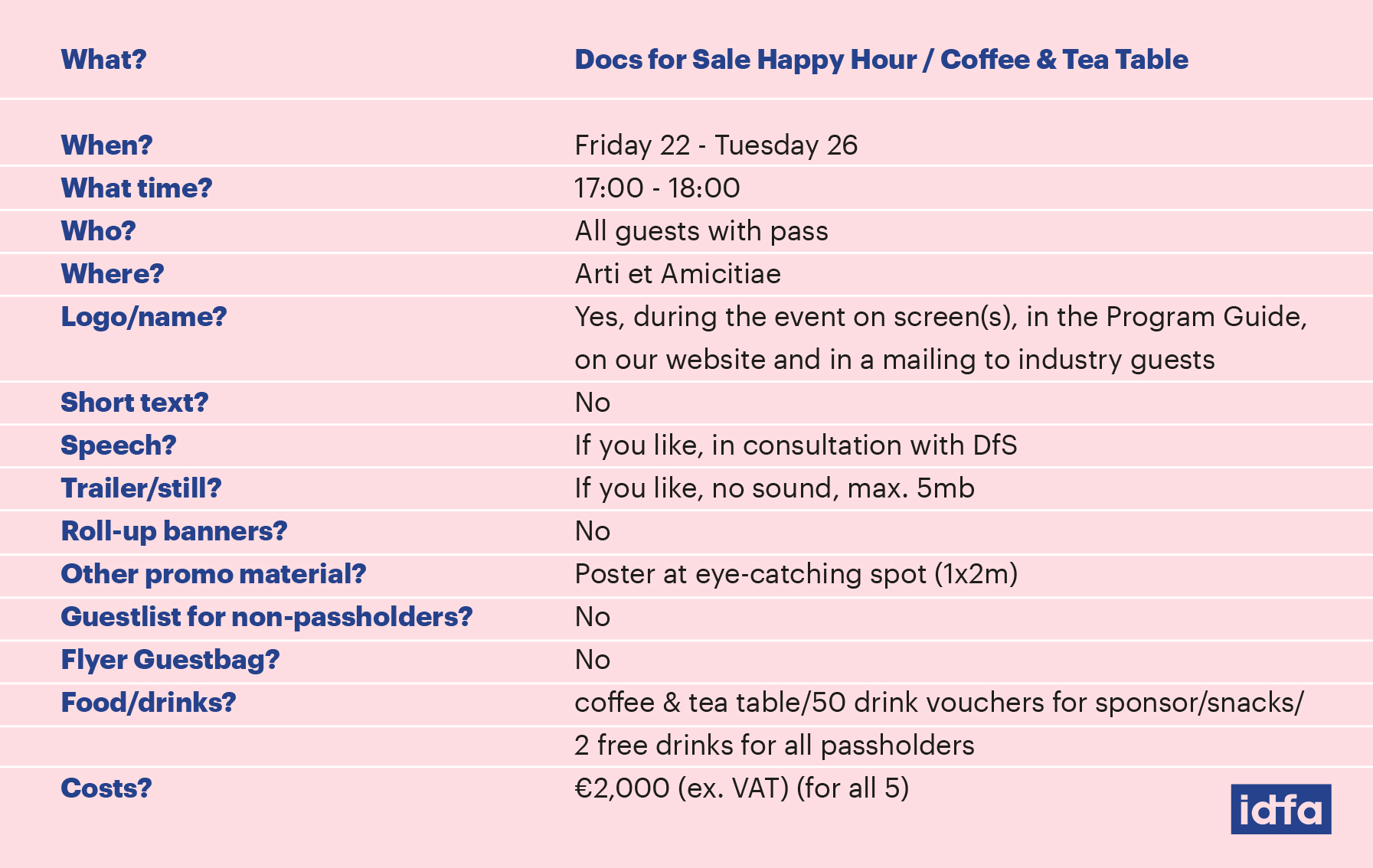 IDFA Forum Producers Breakfasts
You can reach the producers attending the Forum by hosting the breakfasts for Forum Producers. During the Forum period, IDFA organizes a networking breakfast for all the invited producers (ca. 180). Per breakfast a max. number of 60 producers will be invited (allocated seating).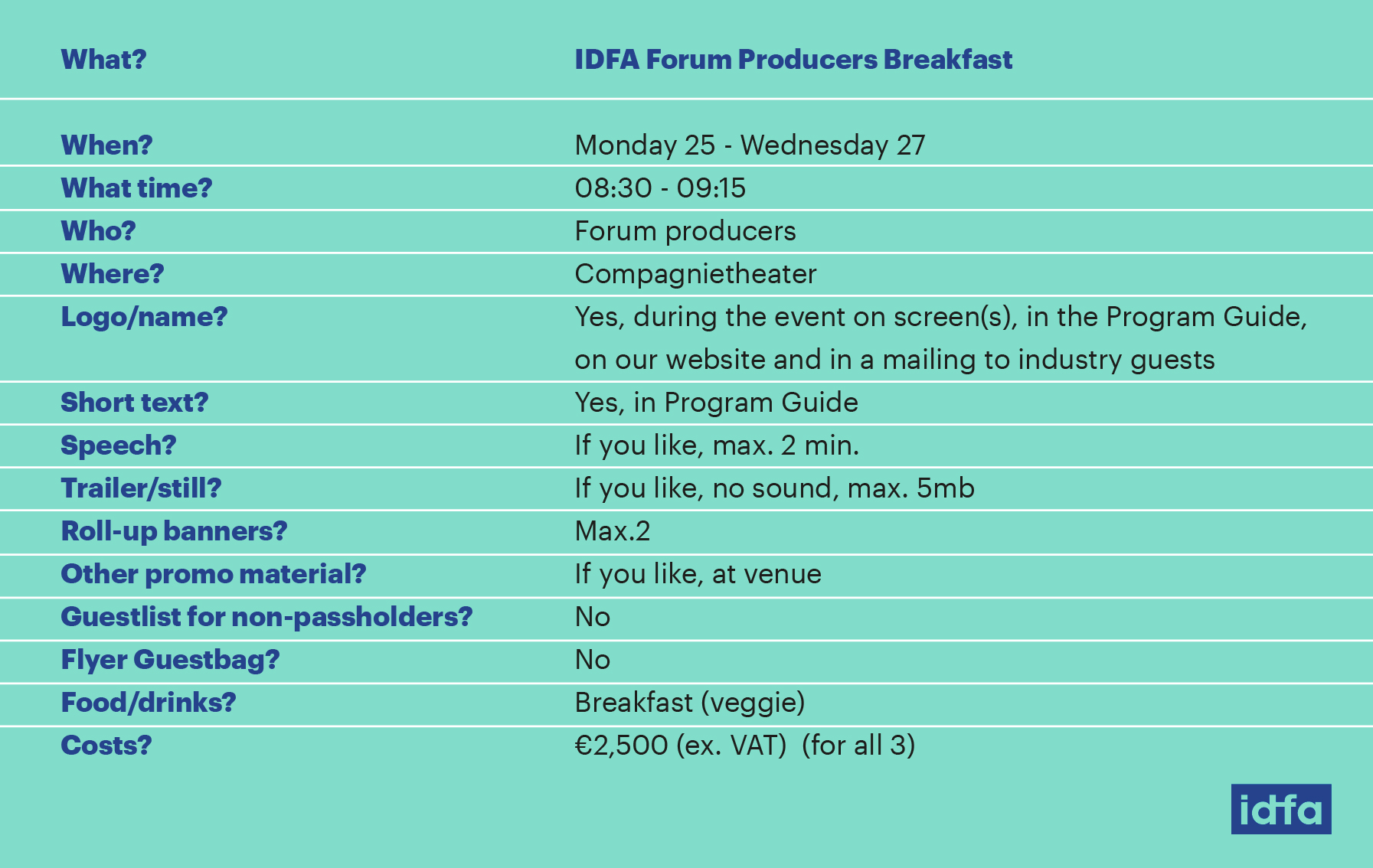 DocLab Conference Lunch
If you would like to reach all the DocLab professionals, hosting the DocLab Conference Lunch would be a perfect opportunity. The highlight of the DocLab program is a one-day international conference. The conference will welcome over 300 guests, and is aimed at digital pioneers, artists, and thinkers for a day full of inspiring presentations, visions of the future, and public experiments.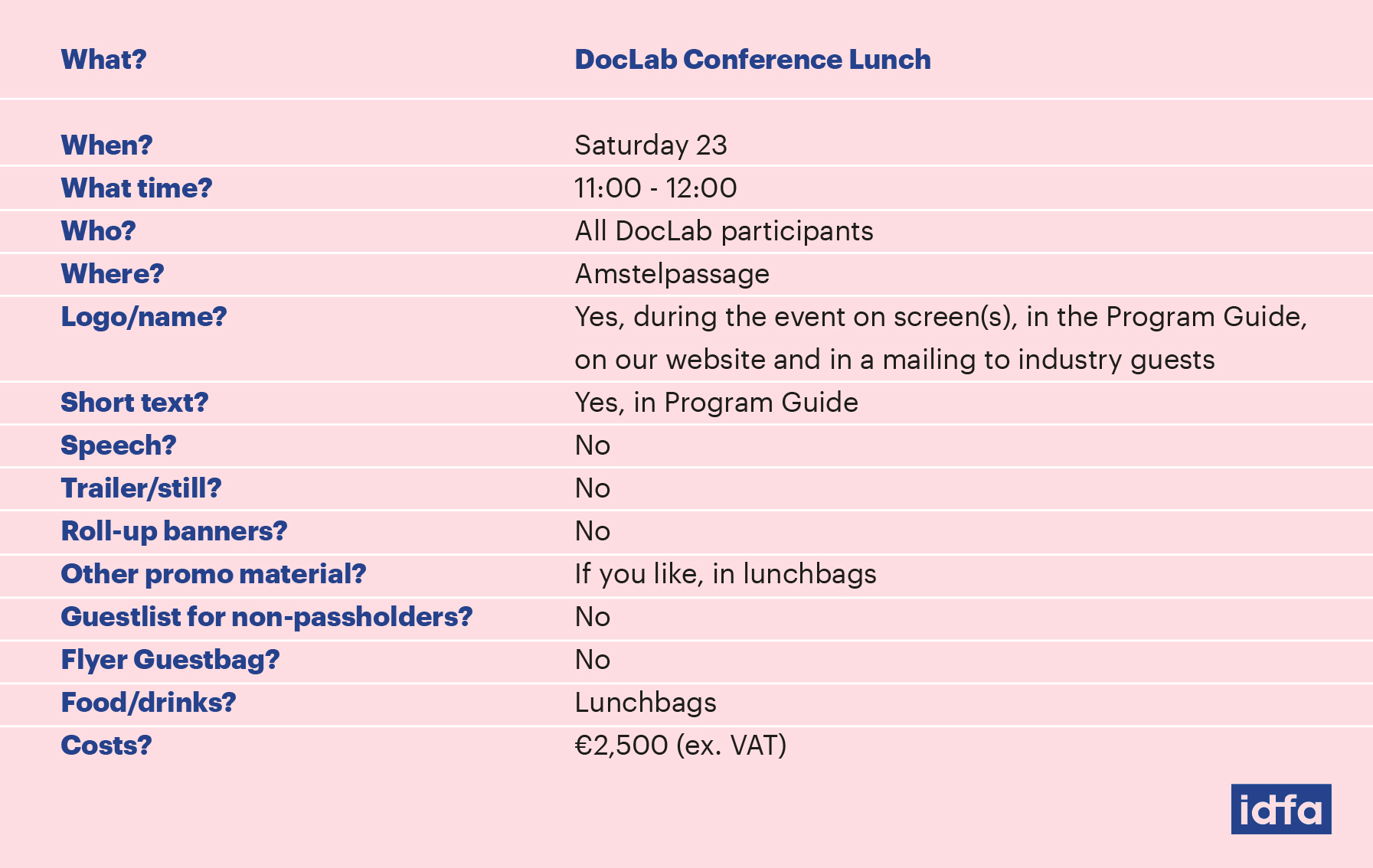 IDFA Doclab Forum Lunch
On Sunday IDFA Forum starts with the Rough Cuts Screenings and the IDFA DocLab Forum, for all guests interested in new media, VR etcetera. All guests for these programs are invited to join the IDFA DocLab Forum Lunch. Participants from the industry DocLab program are invited and all Forum guests with an observer pass.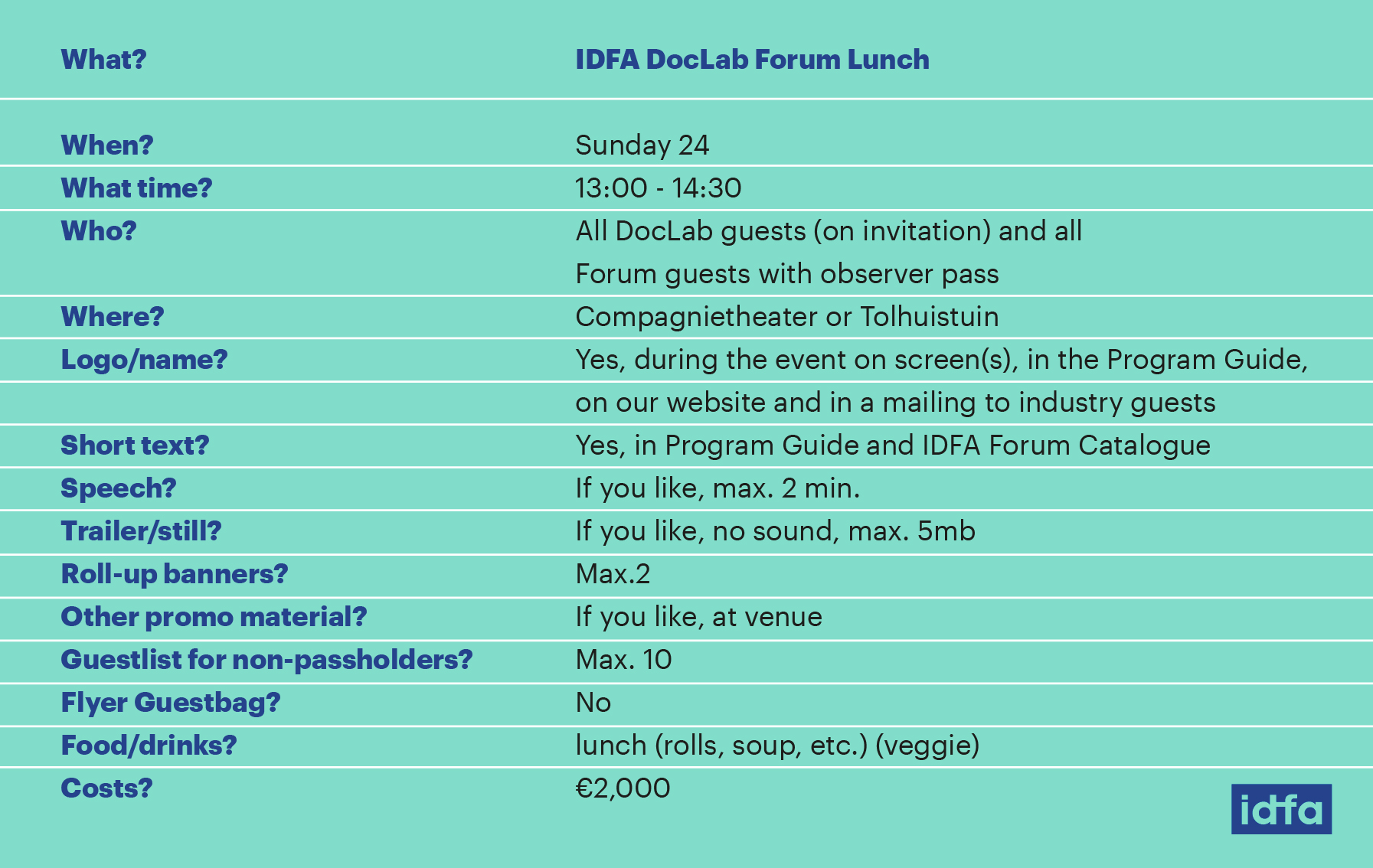 More options for visibility
Of course, there are several other ways to increase your visibility at IDFA. To start with, there are possibilities to advertise in our Program Guide. Furthermore, it's possible to place a banner on the website. It's possible to include some promotional material (flyer/leaflet) in the guest bags (€ 1,000) that all professionals receive when arriving in Amsterdam. And IDFA can screen your slide or commercial during the festival. If you are interested in one of these options, have a look at our Media Card and please let us know.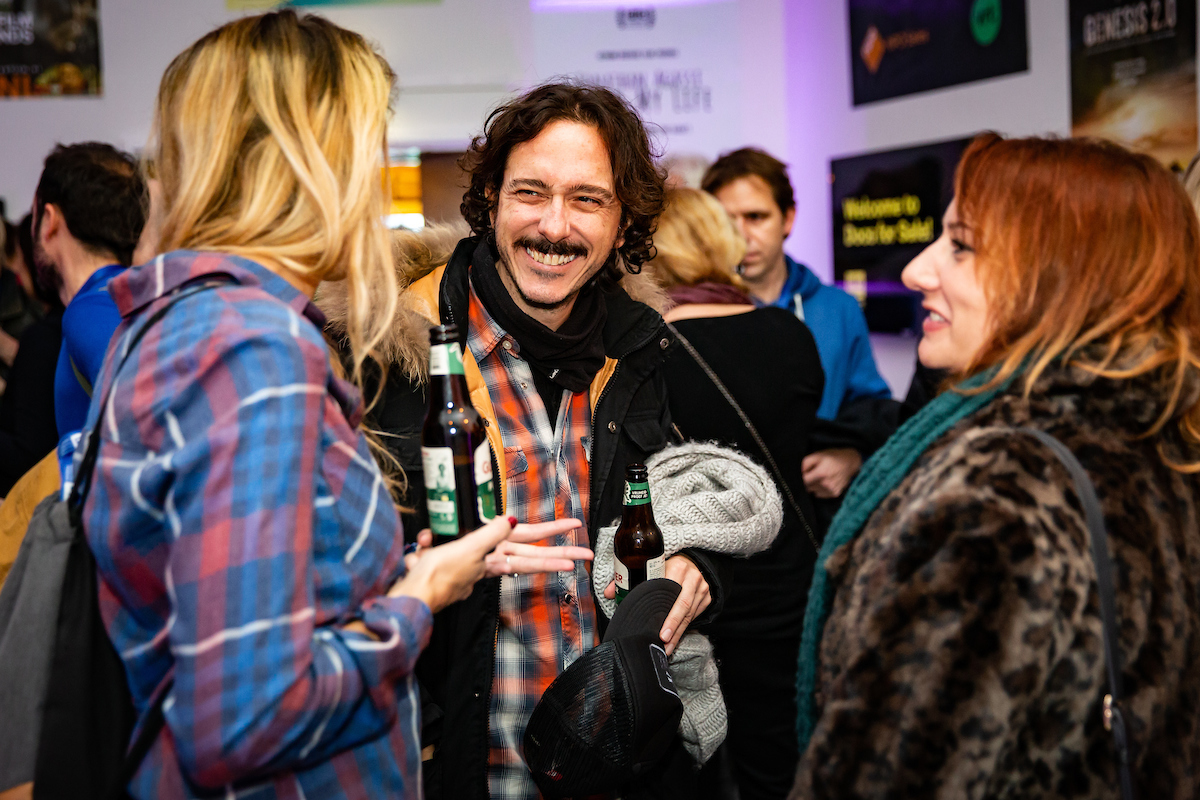 Sponsored Industry Events
You can reach all professional festival guests by adopting one of the Sponsored Industry Sessions. Each year IDFA hosts a number of curated industry sessions and talks for all professional guests who wish to sharpen their awareness of the documentary industry and get up to speed on its latest developments. Parallel to these sessions, IDFA will include a number of tailor-made sponsored industry sessions for partners to present themselves or their product to all the professional guests. The industry sessions take place in the Brakke Grond, Amsterdam. Rooms are set up with a table, chairs, and have modest screening facilities. The duration of the session is max. 2 hours. A suitable timeslot will be found in consultation with the Industry Office, as space in the Industry program is limited. The topic and content of the session will be put together and customized by your organization in consultation with IDFA. This could be a presentation of your organization or a one-on-one event that is more consultancy focused. IDFA is responsible for the technical preparation and will give you access to the online guestlist. You are responsible for inviting the guests to the session.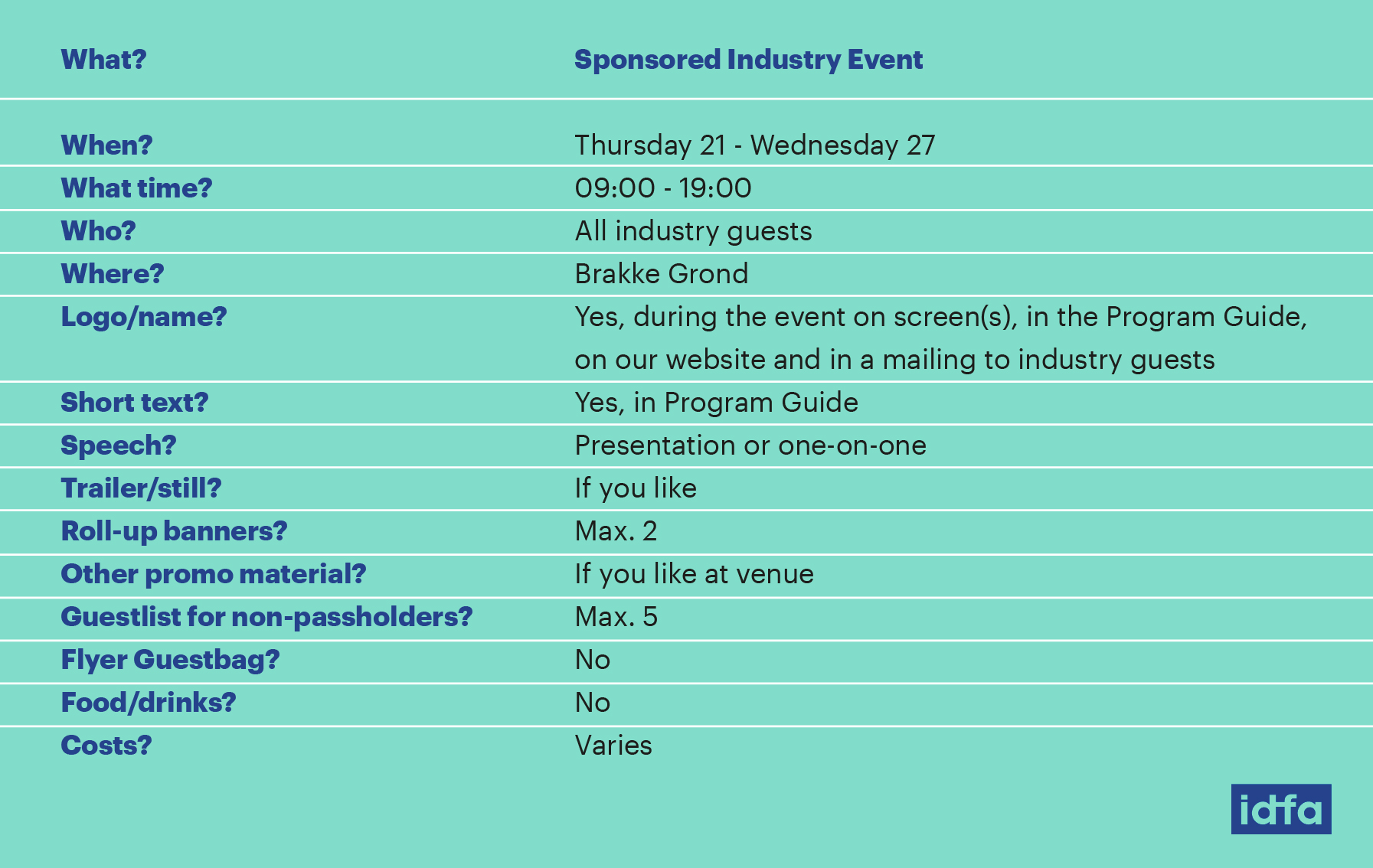 Contact
We are already in contact with some organizations, so please let us know what your preferences are, and we will let you know what's possible.
Brigitte via brigitte@idfa.nl