We really wish we could see you in Amsterdam, but with your health and safety as top priority, we have prepared an extensive online program for you. This year, IDFA invites international guests to experience the festival online. We have ensured that as an IDFAcademy participant, you are able to experience IDFA entirely online this year. Please find below some useful guidelines on how to navigate through the new online set up of IDFA 2020.
How to attend IDFAcademy 2020
Your regular IDFAcademy program will appear when you go to www.idfa.nl and you login to your MyIDFA account. You then go to Professionals in your MyIDFA menu, and click on "Appointments". Here you will find the IDFAcademy sessions that we have invited you for. By clicking on them, you will get access.
Please note: For some Q&A's and the How to Pitch Successfully Session in the IDFAcademy program, a seperate link to join the activity will appear in the chatbox, which appears after clicking on attending the event.
As an accredited IDFAcademy guest, you can still access films in the program, take part in inspiring talks and debates, network with industry leaders, and lots more.  Press & Industry Library – Watch films selected for the IDFA 2020 program online, on-demand from November 18 until December 6. Industry Program – In-depth market insight on a diverse range of topics, with: - Talks; - Sessions and other panel discussions; - Presentations of Delegations' Projects. IDFA Forum & DocLab Forum – You will get the chance to attend the pitches and get insight on up-to-date market and industry developments, as well as documentary films and new media projects that are coming to cinemas and festivals in the near future. They will also be able to consult with a wide and varied range of industry professionals and experts. Social events – Catch up and network with other guests.
How to watch a film
from the Press and Industry library?
Visit www.idfa.nl and login with your MyIDFA account. On the homepage you find a the Press and Industry library with a selection of films of the IDFA 2020 program. Be aware that all films, premiering at IDFA, will be available online after their premiere in the theater.
The Industry Program is completely live streamed and afterwards online available in the Press and Industry library until November 27. The Filmmaker Talks are live streamed and free for passholders (except the Docs for Sale participants). Afterwards they are online available in the Press and Industry library until November 27.
Public screenings and Doc Talks are geo-blocked and only available in the Netherlands.
Watch this short video in which we briefly explain how to watch a film in the Press & Industry Library.
How to attend an industry event online?
Visit www.idfa.nl and login with your MyIDFA account. Select an event in the Program per day and filter on Industry program. You can add this selected event to your "Favorites" list in MyIDFA and export them to your personal calendar (outlook, google calendar etc). When the event is starting, you click on participate (it's accessible 20 minutes in advance). When you're logged in, you have a personal homepage with a personal program for the upcoming 2 hours and some suggestions for other evenst that might be interesting for you. All your personal meetings can be found in Appointments in MyIDFA. Still need help? There is a chatbox where you can ask for support.
Do you have technical questions about the festival? IDFA is happy to help! Ask your questions via the Live Chatbox on the bottom right corner of our website. First see if your question is among the frequently asked questions or check out one of our instructional videos.
Go to the website to get your issue solved!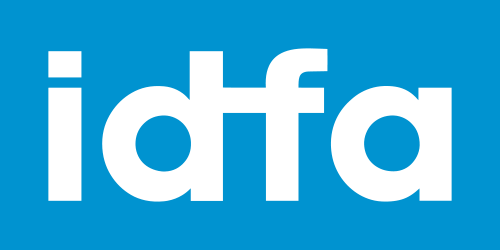 This publication is for desktop view only